Welcome to the Prime Time Club
Club History and Information
Celebrations and Festivities
Throughout the year, the Club organizes many traditional celebrations for both members and guests.  Tickets for these events are available through the Club office.  They are also very reasonably priced and their popularity is a credit to the Club organizers, who donate their time and effort to ensure each events success.
The Club facilities include a full kitchen, a liquor license and bar that stocks reasonably priced beer, wine and liquor, and a banquet hall that can accommodate more than 200 people for in-house catered meals.  Hall Rentals are free for members, spouses or partners for receptions/Celebrations of Life.  To rent for personal use – birthday parties, anniversaries, etc., you must be a member in good standing with a year's membership.  Further enquiries can be directed to us by phone or through the Contact Section of this website.
Pancake Tuesday
February of each year
Join us for a traditional breakfast of pancakes, bacon and sausage.  Check the UPCOMING EVENTS section for further details as the month approaches.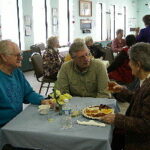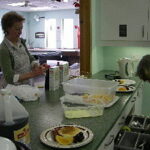 New Year's Eve Dinner and Dance
December 31st of each year
Check the UPCOMING EVENTS section for further details as the month approaches