Welcome to the Prime Time Club
Club History and Information
Celebrations and Festivities
Keep Fit Programs
As we grow older, it is important to start a daily program to improve and protect our health.  Join us at the KEEP FIT workout and start gaining the benefit of regular exercise.
Start with Low Impact Cardio-Strength exercises to protect your health, burn calories, increase mental focus and promote better sleep.  Learn how to improve your balance, posture and maintain bone density.  Most importantly come out and have FUN.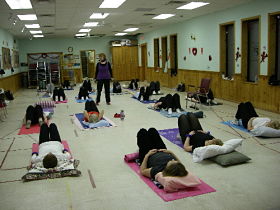 Each class incorporates 4 major components:
Warm up

Low impact cardio

Strength training (with low weights and stretch bands)

Stretch and Relaxation
KEEP FIT
Mondays, 8:45am
Wednesdays, 8:45am & 10:00am
Fridays, 8:30am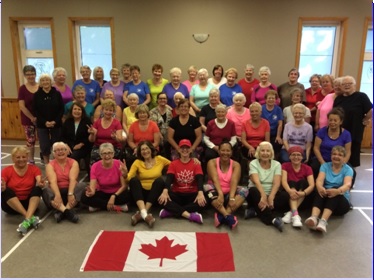 Tai Chi
Tuesdays — 9:00am
Convener: Jacquie Zimmermann — 705-429-4191
Tai Chi is a slow, low impact exercise that is made up of different postures that are performed in the same pattern so that once these patterns are learned, they can be repeated the same way every time.  Benefits include improvement in balance, stretching major muscles, concentration and relaxation.  Stress reduction is also a major result when the forms are practised on a regular basis.  Tai Chi is ideal for those who wish to keep active but are unable to participate in more intensive and aggressive exercise.