Welcome to the Prime Time Club
Club History and Information
Celebrations and Festivities
Bridge Club
Thursdays, 1:00pm
Conveners: Claire Manhire — 705-429-0240
Enjoy the mental challenge, fellowship, and camaraderie of our favorite game — Bridge.  Open to players of all skill levelsm again no partner is required as the teams rotate throughout the afternoon.  Coffee and goodies are served and new players are always welcome.  Prizes are awarded to the top four players.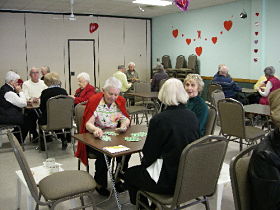 Euchre
Mondays, 7:00pm
Convener: Brenda Wood — 705-429-7486
Join us for a fun evening of Euchre.
Bid Euchre
Tuesdays, 7:00pm
Convener:Diana & Larry Struthers –226-972-7944
Fridays, 7:00pm
Convener: Terry Watt — 705-429-1167
Convener: Fran Hobbs — 705-428-3521
Come and join us for a fun evening of Bid Euchre.  For those interested in learning the game, Friday is our teaching night and Tuesday is a regular game night.  Prizes are awarded to the top three men and top three women.  Coffee, tea and snacks are also available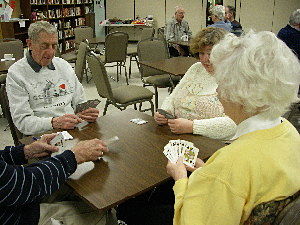 Cribbage
Tuesdays, 1:00pm
Convener: Brenda Wood — 705-429-7486
Convener: Denise Spicehowicez — 705-352-1305
Join us for an afternoon of Cribbage