Welcome to the Prime Time Club
Club History and Information
Celebrations and Festivities
About the Prime Time Club
We Celebrated our 35th Anniversary in 2020. The Prime Time Club was officially opened as an incorporated non-profit charitable organization on October 22, 1985. The original land was donated by the Town along with other donations from local residents, businesses, Government, and assistance from the Wasaga Beach Lion's Club. The cost of constructing our building and the interior maintenance had been mainly funded by the members. It was recognized then that there was a need for a permanent social and recreational club that provided ongoing activities and events that promoted a happy and healthy lifestyle opportunity to the growing retirement population in the area.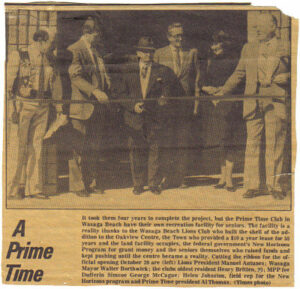 Over the years, membership has grown to over 800, and the Club, which is self-governed by a membership elected executive, relies heavily on unpaid volunteers who unselfishly devote their time, energy, and considerable expertise to running the daily activities for the members. Funding is provided by a nominal annual membership fee, activity fees, a yearly Town Subsidy and some Government grant support.
The Club also provides local community services such as: performing at local seniors centers and churches; contributes towards the Town's Santa Clause Parade; participates in Canada Day and Remembrance Day and makes annual contributions to local charities as funds are available.